Miami Glow was released in 2004 and I thought that it was a limited edition, but it is still easy to buy online from sites like Amazon cheaply today (my latest 30ml bottle I bought last week was only £10.99 there), plus every now and then a batch shows up in my local Boots, Superdrug, and Home & Bargain stores too.
I don't know if this means that it proved so popular that Coty decided to make it a permanent edition to Jennifer Lopez's perfume line, or it was so unpopular that everywhere still has tons of backed up stock to get rid off. Either way I thought I would share my thoughts on this sunny version of the original Glow...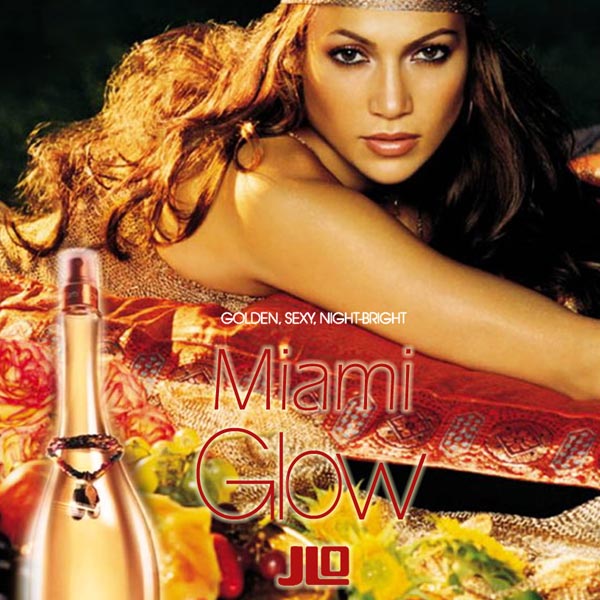 Miami Glow opens with a mix of the berry and soft-citrus top notes, combined with the long coconut accord. I think that I can also pick up some pineapple and plum too. It balances the line between sweet and fresh, bringing to mind a summer cocktail, sipped on a beach or poolside whilst sunbathing & wearing coconut-scented suntanning lotion.
As the fragrance dries into the middle notes, it evolves into similar clean, heliotrope-lead floral notes as the original Glow. I find that the floral notes seem quieter and more powdery this time [when compared to the original Glow] as there is a lot less musk involved in the heart this time, and the floral notes are closely mixed with the amber and lingering coconut for a warm and creamy feel.
The most interesting aspect to the fragrance becomes noticeable as the fruits and florals die down and the vanilla/musk base notes develop; and that is the hot sand accord. This scent note is similar to how a cotton tee smells when it's just come out of the tumble dryer - the fibers smell 'heated'. I'm not sure if that is a good description, but that's the same scent note that is in this perfume, a organic heat.
Scent notes: Pink grapefruit, coconut water, passion fruit, blackcurrant, orange flower, heliotrope, cyclamen, sheer amber, sunkissed sand, crystal musk, vanilla orchid and blond musk.
The combination of the subtler floral heart and the natural base reminds me of sun warmed skin, and is what makes this fragrance memorable for me, and is much easier to wear then the original Glow is so I do prefer it overall.
I think that there are now almost 20 different spin-offs of Glow floating around, and out of all of the ones I've tried this one and Glowing are the only two memorable ones.
Miami Glow was the first Glow flanker to decorate the perfume bottle with wearable jewellery (Sunkissed Glow and Blue Glow would also go on the use bracelets to decorate the bottles, whilst LA Glow would use a ring).