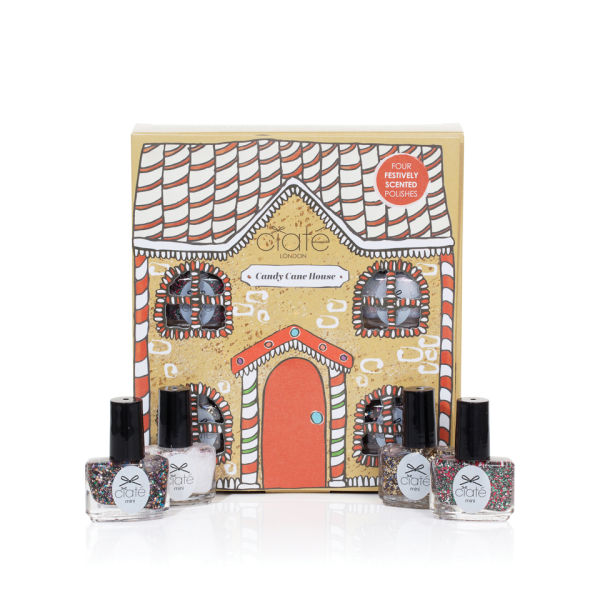 "Fill your festive season with glittering treats from Ciaté London, infused with festive scents from gingerbread to candy cane, deck your nails with colourful merriment and spread holiday cheer with Ciaté London.
This joyful scented colour collection is housed in a good-enough-to-eat super cute box, guaranteed to spice up your holiday season"
Yep; today I'll be opening my new Ciatè set of mini polishes as I get my festive sparkle on. As the post title suggests I'm going to start with the shade Snow Fall, which I've decided to pair with a soft grey polish to represent storm clouds...
Snow Fall is made up of white matte glitter o
f varying sizes in a clear-but-yet-prismatic base. In the bottle it looks dense enough for wearing alone, but the glitter applies sparseley so it is actually made for layering over polishes - or it looks nice over clean nails too.
The polish applies smoothly and is quick to dry too, plus it adds days to the life of your manicure. When it has dried the delicate scent to it is similar to Sparkling Snow by Yankee Candle - which I love. I wish that this polish came in full-sized bottles, because I love it but will now have to save my mini for special occasions.
Pillow Fight is a creme shade that is described as a "creamy delicate grey with the smallest hint of lilac, innocent looking with an edge"... I have over 30 bottles of Ciate polish and this one is one of my firm favorites - it looks great any occasion, any time of year.
The pigmentation and the formula for this shade are both great; the polish is really smooth and bubble/streak free to apply, and the colour is so rich that it's opaque in two coats - for such a soft colour I was impressed.
the polish dries quickly, and I find that it wears as well as the more well known brands in my collection.

I also had no issue with the bottle shape, or with the brush.
------
Ciate's regular polish line (including Pillow Fight) costs £9 per 14ml bottle.
It is £25 for the scented glitter toppers set.

I bought my set when I was in a larger Boots store, although they don't stock it on their website.
I believe Selfridges and John Lewis Stores also sell Ciatè.
You can order the set from Ciate's website here.
Pillow Fight can be ordered here.